BullFrog Swim Series Spa
Enjoy an upgraded backyard water experience unlike any other with the all-new Swim Series by Bullfrog Spas®
BullFrog Swim Series Spa
Enjoy an upgraded backyard water experience unlike any other with the all-new Swim Series by Bullfrog Spas®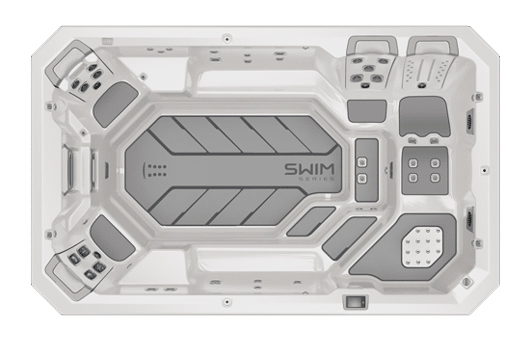 Enjoy an upgraded backyard water experience unlike any other with the all-new Swim Series by Bullfrog Spas®. Build endurance and strength with preset or customizable fitness programs, resistance training, and space for any number of low-impact, water-based workouts.
Practice swimming, play games, or splash around on the unique splash pad area. With an ample number of multilevel seats, you'll have plenty of room for everyone to join the fun. Work out, play, or relax away tension, all year round, right from the comfort of your own backyard.
No other product in the category offers the numerous therapy options available with the patented JetPak Therapy System™. Swim Series is built with legendary Bullfrog Spas quality and reliability, attractive aesthetics, features designed for an endless variety of uses, and a remarkably functional layout you're certain to love.
Standard Features
Standard Dimensions (W x L x H)

 

94″ x 152″ x 52″
Metric Dimensions (W x L x H)

 

2.38m x 3.86m x 1.32m
Total Seats

 

13
Bench Style Seats

 

6
Lounge Style Seats

 

2
Elevated Seats

 

2
Water Capacity (to normal fill line)

 

1190 Gallons (4504 Liters)
Dry Weight (includes Cover)

 

2000 lbs (907 kg)
Maximum Filled Weight (includes Cover)

 

11924 lbs (5409 kg)
EnduraFrame Construction/Full-Foam/Molded Base

 

Standard
Premium Patio Performance Spa Cover

 

Standard
Exercise Anchors (6)

 

Standard
Tether Anchors (3)

 

Standard